Latest News
Pamela Geller 's new book,  Theorizing Bioarchaeology, was published by Springer Press in the summer of 2021. This book demonstrates how theoretical expansion can contribute insightful and more ethical outcomes in bioarchaeology.
Read More >>
---
Traci Ardren recently co-edited a large volume entitled 'The Maya World', published by Routledge Press. This book presents research on every major facet of the ancient Maya world.
Read More >> 
---
Caleb Everett recently published an article, "The Sounds of Prehistoric Speech", in an issue of the world's oldest science journal.
Read More >>
---
Pamela Geller authored an op-ed in The New York Times and another in Slate, on single-use plastics. You can read the NYTimes piece here >> and the Slate piece here>>.
---
Professor Ardren recently edited another book on the Maya world, entitled 'Her Cup for Sweet Cacao'. The book explores how food was both sustenance and a tool for building a complex society. It was published by the University of Texas Press.
Read More >>
---
New course in Native American and Global Indigenous Studies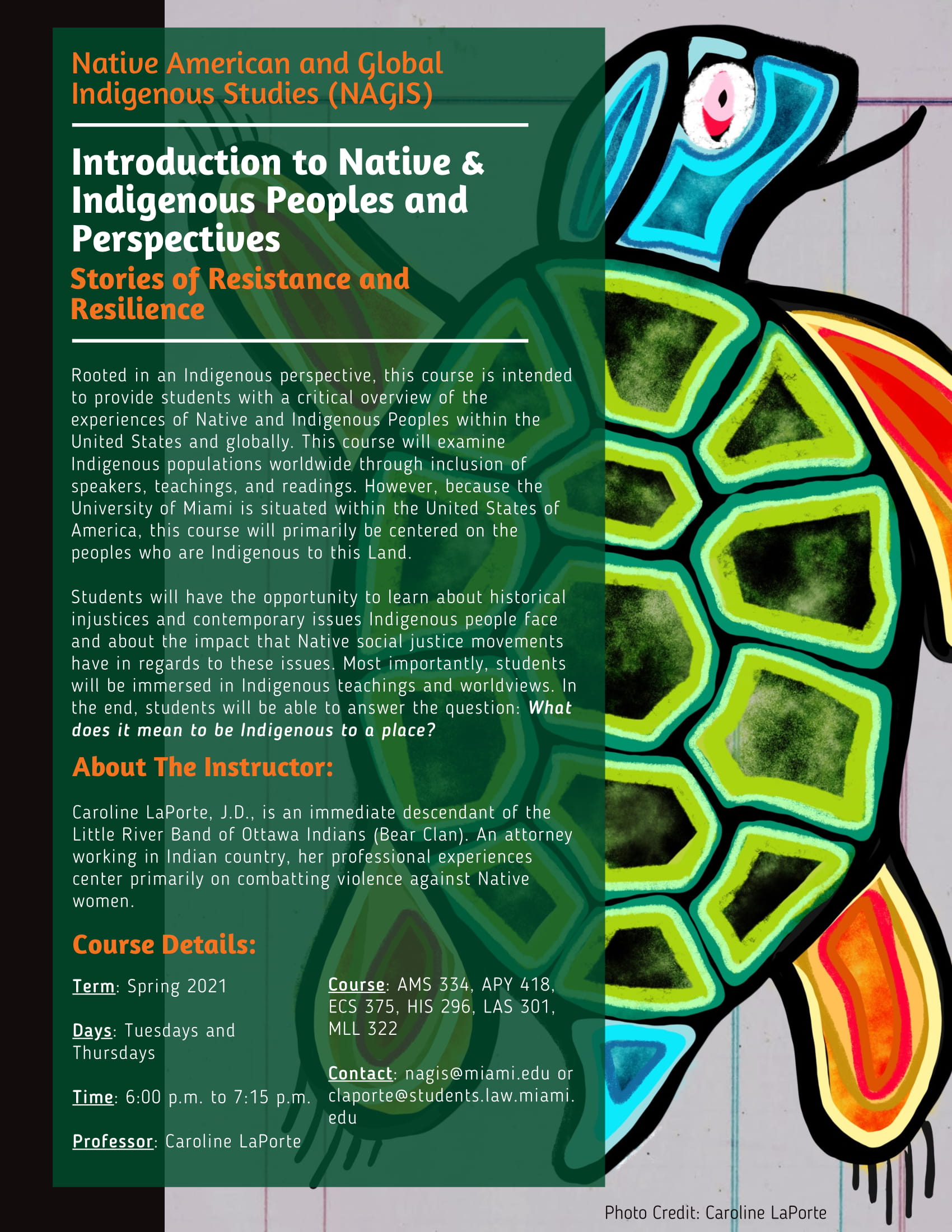 ---
Modern technology reveals old secrets about the great, white Maya road
Using lidar technology to peer through thick vegetation, researchers are learning more about the longest road from ancient Maya civilization.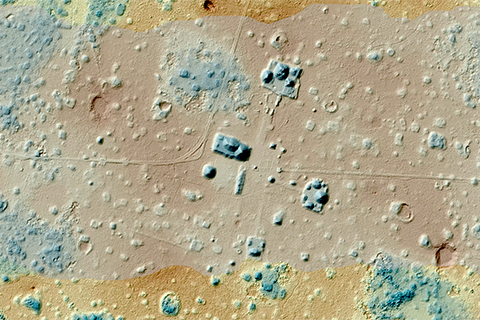 This lidar map of downtown Yaxuna reveals many ancient houses, platforms, palaces and pyramids that are hidden by vegetation.
---
Department 50 th Anniversary Celebration
Schedule of events - Friday February 21, 2020
Speakers arrive Friday morning or earlier
1:00pm
Gather in 3rd floor meeting room, Richter library
1:15pm
Introductory remarks by Caleb Everett, chair
1:30pm
History of the Department of Anthropology, Edward Lipuma, former chair and professor emeritus
1:45pm
Kate Breslford, Director of Research Analytics for Universal Orlando Resort
"Applying anthropological methods to bioethical challenges in clinical and research settings"
2pm
Tony Chamoun, Syracuse University
"The Strangers of Beirut: Some Notes on Empire"
2:15pm
Xenia Dvoriantchikova, Cornell University
"Anthropology in International Development - Employment and Independence for Displaced Tribal Communities"
2:30-2:45pm
Coffee & tea break
2:45pm
Harry Levine, Miller School of Medicine
"Syringe disposal practices among injection drug users before and after implementation of a syringe exchange program in Miami, Florida"
3pm
Andreana Cunningham, University of Florida
"Cranial biodistances as reflectors of slave trade migration histories"
3:15pm
Julie K. Wesp, North Carolina State University
"Bioarchaeological Approaches to Understanding Latin American History"
3:30-4pm
Coffee & tea break
4pm
James Herrera, Duke Lemur Center, Duke University
"From a degree in Anthropology to a career in research, conservation, and development"
4:15pm
Linda Taylor, professor emerita
5pm
Adjourn to the Rat for drinks (everyone invited)
7pm
Speakers dinner at Havana Harry's or similar (faculty invited)
9:30pm
Speakers delivered to Mutiny Hotel, Coconut Grove
Speakers depart on Sat morning or later
---
Herns Marcelin wins major NIH grant. The National Institutes of Health/National Institute of Drug Abuse has funded the implementation of the Culturally Modified Family Based Therapy for Haitian youth and their families.  Dr. Louis Herns Marcelin, faculty member in the Department of Anthropology and the Department of Public Health Sciences, is Principal Investigator on the grant. He is working with an interdisciplinary team of researchers, including:  Dr. Daniel Santisteban, Dr. Bryan Page, Dr. Nick Petersen, and Dr. Toni Cela from the University of Miami and Dr. Richard Dembo from the University of South Florida.  This pilot project will modify and evaluate a specific variety of intervention in Miami's Haitian cultural contexts.  The project aims to identify and decrease risk factors while strengthening the protective factors that can contribute to healthy development among Haitian youth ages 13-17.
---
Congratulations to Traci Ardren on being awarded a prestigious Dumbarton Oaks fellowship for the spring of 2019.
---
Caleb Everett's book, Numbers and the Making of Us (Harvard University Press), was recently awarded a 2018 PROSE Award. It was also selected by Smithsonian as one of the ten best science books of 2017.
---
Congrats to Will Pestle and Ashli White (History) for the successful opening of  Antillean Visions, a Lowe Art Museum exhibit on the history of Caribbean maps. There were over 500 attendees on opening night!
---
In the spring of 2018 the department will be cosponsoring two major events: The Little Salt Spring Conference, to be held at the Storer Auditorium on February 24, and Antillean Visions, a Lowe Art Museum exhibit on the history of Caribbean maps. The former conference will bring together experts to present some of the important finds that have resulted from UM's work at Little Salt Spring. Antillean Visions will include displays of some 200 rare, beautiful, and historically significant maps of the people, places, and things of the Caribbean.
---
Dr. Ardren recently received a grant from the National Science Foundation, for the following major research endeavor: "Household Socio-Economic Integration of the Classic Period Coba State: Researching the Yaxuna-Coba Causeway." Through this project, she and other scholars will examine some of the evidence for cultural integration amongst the Maya during the Classic Period.
Dr. Ardren was also recently awarded a grant by the Waitt Foundation and the National Geographic Society, for a project entitled  " The Ethnoscience of Ancient Maya Raised Roads: Re-mapping the Longest Maya Sacbe". This project will entail working with Yucatec Maya speakers who live at Yaxuna to use drone and LiDAR data for mapping Sacbe 1.
---
Anthropology major Harper Dine received the Excellence in Liberal Learning Award from the Phi Beta Kappa society, into which she was recently inducted. Way to go Harper!
---
Congrats to Dr. Claire Ouselati-Porter, who has been awarded an Engaged Faculty Fellowship for the 2016-2017 academic year.
---
Eva Mann was recently awarded a Beyond the Book Scholarship. Congrats Eva!
---
The department is very pleased to welcome our newest faculty member, Dr. Jafari Allen.
---
Our graduate program is now accepting applications.
---
We are excited about the launch of the Lowe Art Museum's new  Kay Pacha Andean art exhibition, curated by Dr. Traci Ardren.
---
Dr. Louis Herns Marcelin has been awarded a Spencer Fellowship for his research project on The Socio-Cultural Costs of Pursuing Higher Education for Women in Haiti.
---
New research by Dr. Traci Ardren (and some of her students) examines the impact of prehistoric humans in the Everglades.
---
Read about the relationship between UM and Haiti in the recent Haiti Special Report, which examines the five-year period since the 2010 Haitian earthquake. Dr. Marcelin's role has been pivotal in growing this relationship during the last five years.
---
The Anthropology Club is back! Check it out on Facebook.
---

Dr. Caleb Everett has received an inaugural  Andrew Carnegie Fellowship from the  Carnegie Corporation of New York. Just 32 scholars nationwide received funding through the new annual fellowship program, aimed at supporting in-depth research in the social sciences and the humanities.  Read More...‌  
---
Dr. Bryan Page's recent book (co-authored with Merrill Singer), The Social Value of Drug Users, was recently named an "Essential Academic Title" by Choice Magazine.
---
Three faculty from the Department were awarded Provost's Research Awards in 2015!
---

We would like to congratulate Dr. Will Pestle for receiving a National Science Foundation Senior Award in Archaeology for his Chile-based research program entitled, "The Emergence of Inequality in the Atacama Oases." 
---

The Department of Anthropology congratulates Dr. Pamela Geller on her award of a 2014-2015 fellowship at the Center for the Humanities!